UPCOMING TALK. A talk given by Father Kosmas will be on Sunday, 27th January 2019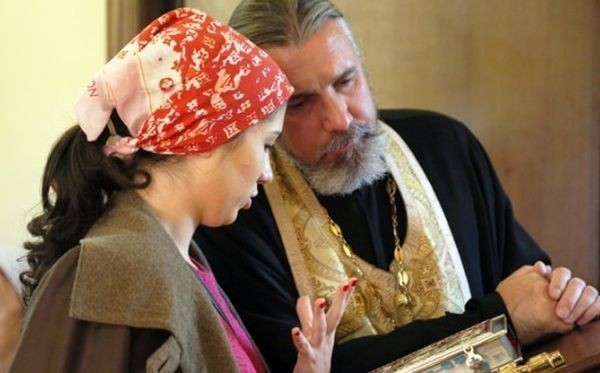 UPCOMING TALK
A talk given by Father Kosmas will be on Sunday, 27th January 2019
With the blessing of
HIS EMINENCE METROPOLITAN HILARION
Archbishop of Sydney, Australia and New Zealand
Most Holy Theotokos, Pray To God For Us!
Date
Sunday, 27th January 2019
Location
Saint George Russian Orthodox Church
15 Garfield St, Carlton, Sydney
Topic
How Can Clergy and Monasteries Help Parents Who Have Problems with their Young and Adult Children?
Service
3:30 pm: The Great Supplicatory Canon to the Most Holy Theotokos
The faithful will have an opportunity to submit names of living Orthodox Christians for commemoration.
Talk
4:45 pm: The talk will be held in the hall at the rear of the church.
Age group
These talks attract people of all ages. However, they are not recommended for children under the age of 16.
Bookshop
Orthodox books and CDs in English are available for purchase.
Food and Refreshments
Beverages, savouries and sweets are offered to those who wish to stay.
2019 Schedule of Talks and Services
http://www.orthodoxtalks.com/talk-schedule/
Website
* Please let us know if you would like your email address to be taken off this distribution list *
Dress Code
When attending church services, clothing should be modest and loose-fitting, and conform to the following:
For Men:
Men are asked to wear long pants and long-sleeved shirts.
No shorts or short-sleeved shirts.
Shoes/sandals with socks.
For Women:
Women are asked to wear dresses/skirts that at least cover the knees, and long-sleeved shirts or tops.
No pants or shorts, low-neck or short-sleeved shirts or tops, or tight skirts, mini-skirts, or high-slit skirts.
Women are asked to have their heads covered with a scarf, and to wear shoes/sandals with stockings or socks.
Lipstick:
Lipstick looks terrible smeared on icons, crosses, the communion spoon, and the priest's or bishop's hand. Hand-painted icons have been ruined by lipstick; and even though the cross or spoon can usually be cleaned after everyone venerates, it's not very considerate to those who follow, not to mention the fact that it is a sin. Women should not receive Holy Communion while wearing lipstick. Not only does this show the proper respect to the Body and Blood of Christ, but it also shows respect to others who wish to commune the Holy Body and Blood of Christ and nothing else!
Saint John of Shanghai and San Francisco (whose relics are incorrupt) even issued an Ukase (Decree) forbidding the veneration of Icons while wearing lipstick. When Saint John was bishop of San Francisco, he would have an altar boy holding a towel standing nearby during the kissing of the cross. When a woman wearing lipstick would approach to venerate the cross, he would take the towel and wipe off her lips, in front of everyone, before he would let her kiss the cross, or sometimes he would not even allow her to venerate the cross.
Thank you for your cooperation.