UPCOMING TALK. A talk given by Father Kosmas will be on Sunday, 14th July 2019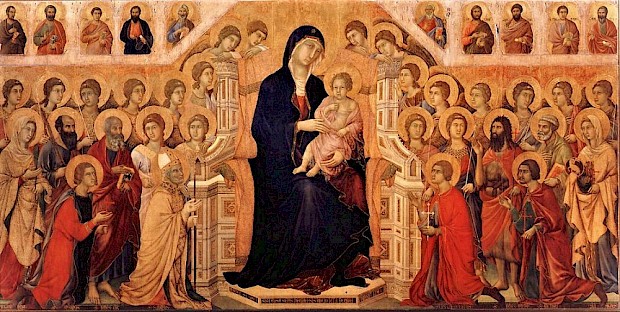 With the blessing of
HIS EMINENCE METROPOLITAN HILARION
Archbishop of Sydney, Australia and New Zealand
Holy Blessed Mother Xenia, Pray To God For Us!
Date
Sunday, 14th July 2019
Location
Saint George Russian Orthodox Church
15 Garfield St, Carlton, Sydney
Topic
Why Are the Lives of Saints Regarded as the True Encyclopaedia of Orthodoxy?
Service
3:30 pm: The Great Supplicatory Canon to St Xenia of Petersburg
Saint Xenia is especially called upon for help with everyday problems, such as finding employment, housing, a spouse, or missing children. She also helps those suffering from alcoholism, marital problems, childlessness, and mental illness. See below for more on St Xenia.
The faithful will have an opportunity to submit names of living Orthodox Christians for commemoration.
Talk
4:45 pm: The talk will be held in the hall at the rear of the church.
Age group
These talks attract people of all ages. However, they are not recommended for children under the age of 16.
Dress Code
See below
Bookshop
Orthodox books and CDs in English are available for purchase.
Food and Refreshments
Beverages, savouries and sweets are offered to those who wish to stay.
2019 Schedule of Talks and Services
http://www.orthodoxtalks.com/talk-schedule/
Website
The Life of Saint Xenia of Petersburg
We know almost nothing about the early years of Blessed Xenia's life. She was happily married to a colonel who was a court singer in St. Petersburg, Russia's capital city at that time, and we can assume that her' own family was among the well-to-do. She was only 26 years old when her husband suddenly died at a drinking party. Xenia loved her husband very much and his unexpected death came as a great shock, it completely changed her way of looking at life. Knowing that her husband had not prepared himself for death and that he had died without the prayers of the Church, she began to be very concerned about the eternal state of his soul. It was as though she were given new eyes; she thought no more about parties, about having fun with friends; she gave away her possessions to the poor. In fact, she broke all ties with the world--to such an extent that even her relatives thought she must be crazy. Xenia dressed in her husband's clothes and insisted on being called by her husband's name, Andrew, as if to say that she had died, not he. And indeed, she died to the world in order to be closer to God.
At night she would go into a field outside the city and stand for hours in prayer, even in the snow. Or she would secretly help in the building of the Smolensk cemetery church carrying to the top bricks which would be waiting for the workmen in the morning. Often, as she walked the streets in the city's poorer neighborhoods, people made fun of her, children would throw dirt at her and laugh. The blessed one only prayed for their souls, bearing patiently their taunts for the sake of Christ.
Gradually, however, people began to see that behind her seemingly odd behavior was someone who was very special in the eyes of God. They noticed that when she would hold a crying baby in her arms, the baby would at once quiet down and remain calm and content for the rest of the day. Those stores which she entered would have good business that day. People began to realize that her often strange words held a deeper meaning, sometimes warning them of approaching disasters, or of what was to happen in their life. Once, for example, she went to visit her friends the Golubevs as they were preparing to sit down for a cup of coffee. "Oh my beauty," she said to the daughter, "here you are making coffee, while your husband is burying his wife at Ochta. Run quickly!" The young girl and her mother were most puzzled by these words, but knowing Xenia's gift of being able to see the future, they obeyed at once. There they came upon the funeral procession of the wife of a young doctor who was so overcome by grief that he fainted.
The Golubevs brought him back to his senses, became acquainted, and a year later the daughter became his wife, just as the blessed one had foretold.
Another time some merchants were selling some particularly delicious honey out of a barrel. People had already begun to buy it at a high price when suddenly Blessed Xenia appeared. "Don't take it, don't take it," she cried. "This honey can't be eaten; it stinks of a corpse." She leaned with all her strength against the barrel which overturned on the sidewalk, spilling the honey to the merchants' great dismay. To everyone's horror, there at the bottom of the barrel was a huge dead rat. Even those who had already bought some of the honey had to throw it out.
St. Xenia lived in this way for years after the death of her husband. Exactly when she died is not known, but it was probably in the last years of the 18th century. She was buried in the Smolensk cemetery, not far from the church which she had helped to build. Later a chapel was built over her grave, and to this very day many people come there to pray to St. Xenia who, even after death continues to work many miracles, helping people out of all kinds of misfortunes. Through her prayers, people have been healed of serious illnesses; she is especially quick in helping to find jobs or places to live. Just this year a woman in England was looking for a place to live near the church where she had recently been received into the Orthodox Faith, so as to be able to attend the daily services. She and her priest prayed to St. Xenia and within a few days she had an apartment in the house next door to the Parish House! Wondrous is God in His saints.
May we learn from the example of Blessed Xenia how important it is for us not to be attached to the things of the world, but to keep our minds and hearts turned towards heaven, our true home, that we too, like St. Xenia, may, after our earthly wandering, "come to dwell in the Father's house."
Saint Xenia is especially called upon for help with everyday problems, such as finding employment, housing, a spouse, or missing children. She also helps those suffering from alcoholism, marital problems, childlessness, and mental illness.
Holy Blessed Mother Xenia, Pray To God For Us!
Dress Code
When attending church services, clothing should be modest and loose-fitting, and conform to the following:
For Men:
Men are asked to wear long pants and long-sleeved shirts.
No shorts or short-sleeved shirts.
Shoes/sandals with socks.
For Women:
Women are asked to wear dresses/skirts that at least cover the knees, and long-sleeved shirts or tops.
No pants or shorts, low-neck or short-sleeved shirts or tops, or tight skirts, mini-skirts, or high-slit skirts.
Women are asked to have their heads covered with a scarf, and to wear shoes/sandals with stockings or socks.
Lipstick:
Lipstick looks terrible smeared on icons, crosses, the communion spoon, and the priest's or bishop's hand. Hand-painted icons have been ruined by lipstick; and even though the cross or spoon can usually be cleaned after everyone venerates, it's not very considerate to those who follow, not to mention the fact that it is a sin. Women should not receive Holy Communion while wearing lipstick. Not only does this show the proper respect to the Body and Blood of Christ, but it also shows respect to others who wish to commune the Holy Body and Blood of Christ and nothing else!
Saint John of Shanghai and San Francisco (whose relics are incorrupt) even issued an Ukase (Decree) forbidding the veneration of Icons while wearing lipstick. When Saint John was bishop of San Francisco, he would have an altar boy holding a towel standing nearby during the kissing of the cross. When a woman wearing lipstick would approach to venerate the cross, he would take the towel and wipe off her lips, in front of everyone, before he would let her kiss the cross, or sometimes he would not even allow her to venerate the cross.
Thank you for your cooperation.